"Cor meum est templum sacrum is one of our favorite songs to sing and to program. It has created a transcendent moment on many of our sacred programs."
—Chanticleer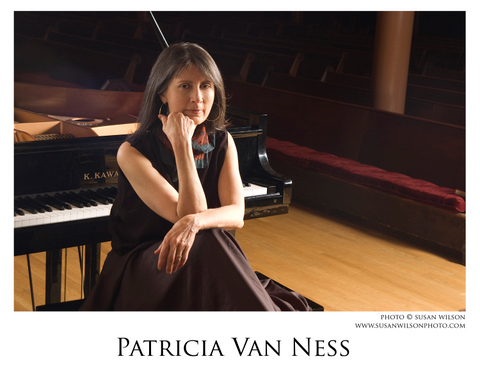 Composer, violinist, and poet Patricia Van Ness draws upon elements of medieval and Renaissance music to create a signature voice that has been hailed by musicians, audiences, and critics. She has been called a modern-day Hildegard von Bingen 1,2, with her ability to compose music "ecstatic and ethereal," "both ancient and new" 2,3. As in medieval aesthetics, her music and poetry explore the relationship between beauty and the Divine.
Patricia Van Ness's work has had an impact that is both local and global. She is Staff Composer for First Church in Cambridge, Massachusetts (Peter Sykes, Music Director); Composer-In-Residence at St. Paul's Episcopal in Burlingame, CA (Susan Jane Matthews DMA, ARSCM, Music Director) and has been an invited lecturer at Harvard University and Boston University. Her music has been commissioned, premiered, and performed by numerous musicians and organizations throughout the world, including The King's Singers (UK), the Heidelberg New Music Festival Ensemble, Chanticleer, Mannerquartett Schnittpunktvokal (Austria), the Celebrity Series in Boston, the Spoleto Festival Orchestra, Peter Sykes, Coro Allegro, and the Harvard University Choir. Her work has been presented in Rome and Assisi in Italy; the Musica Sacra Festival in Maastricht, Holland; and in halls and cathedrals throughout Italy, Austria, Finland, Germany, Japan, Hong Kong, Puerto Rico, Sweden, Latin America, Canada, Latvia, Russia and the United States. In addition to her residency at St. Paul's, she has been awarded residencies with the Boston Landmarks Orchestra and with Coro Allegro.
Ms. Van Ness is currently composing new music for each of the 150 Psalms. The texts are in English, Hebrew and Latin using the Psalter, the Hebrew Text, and the Liber Usualis.
Ms. Van Ness has received numerous awards and grants, including the Daniel Pinkham Award from Coro Allegro (David Hodgkins, Artistic Director); Europe's prestigious Echo Klassik Prize awarded to the ensemble Tapestry (Laurie Monahan, Director) for their recording Sapphire Night containing an extended work by Van Ness and music by Hildegard von Bingen; Van Ness's extended work Psalms of Luminous Rescue, commissioned and premiered by Coro Allegro (David Hodgkins, Artistic Director), was part of Coro's season that earned them the Chorus America/ASCAP Award for Adventurous Programming;  and Chamber Music America awarded "Album of the Year" to Tapestry's The Fourth River, containing two of Van Ness's works.
Ms. Van Ness's music may be found online on Amazon, iTunes, and Spotify; The King's Singers's The Best of the King's Singers and From the Heart; Chanticleer's Sound in Spirit recorded on Warner Classics; on Telarc International Recordings's Angeli (Ensemble P.A.N). and The Fourth River (Tapestry); on MDG Classics's Sapphire Night (Tapestry); on Birds of the Psalms and Passionately Unconventional: Madrigals and Motets by Nuns of Bologna, Moderna, and Ferrara, Cappella Clausura (Amelia LeClair, Artistic Director); In the Clearing, and somewhere i have never traveled, Coro Allegro; on Parma Recordings's In Paradisum (In Paradise), Coro Allegro; on Sing the Glory! and Glorious the Song, The Harvard University Choir (Edward Elwyn Jones, Choirmaster); Albany Records' A Marvelous Love, Carson Cooman, organ; and Advent and Other Music of the Liturgical Year, released by Van Ness.
Her scores are available on her website (www.patriciavanness.com). My Heart is a Holy Place is published by The King's Singers Choral Series, distributed by the Hal Leonard Corporation and available here. Ms. Van Ness is a member of American Composers Forum, ASCAP, and the International Alliance for Women in Music. She is a former member of the Board of the Cambridge Society for Early Music and currently serves on the Musical Advisory Board of Cappella Clausura (Amelia LeClair, Artistic Director). She lives on the coast of Maine with her husband, Peter Marks.
1 Gary Higginson, Music Web UK
2 Gaby Beinhorn, Suedwestrundfunk, Germany
3 Susan Larson, The Boston Globe
SELECTED FUNDING AND PRIZES

2015
Composition Grant awarded by the Special Projects Committee and Special Projects Fund of the San Francisco Chapter of the American Guild of Organists.
2011
The Daniel Pinkham Award, by Coro Allegro, David Hodgkins, Artistic Director
1997–2015, 2017
ASCAPLUS Awards
2005
The Echo Classic Prize: Tapestry, Laurie Monahan Director, for von Bingen/Van Ness's

Sapphire Night

2004
Alfred Nash Patterson Foundation Award from Choral Arts New England for Requiem, Coro Allegro
2002
America Composers Forum, Boston Chapter

and ParkArts

for The Boston Landmarks Orchestra Residency and Commission
2002
Alfred Nash Patterson Foundation Award for In Principio (In the Beginning), Youth pro Musica
2000
Alfred Nash Patterson Foundation Award for Nocturnes, Newton Choral Society
1998
Meet the Composer Fund Award for Voice of the Tenth Muse, Coro Allegro
1998
Meet the Composer Fund Award/Arts Midwest, Fort Wayne Children's Choir
1998
Massachusetts Cultural Council Grants, as administered by the City of Somerville for Music Composition
1997
First Prize, His Majestie's Clerkes Choral Composition Competition, Cor mei cordis
1994
Finalist, Schola Cantorum of Oxford University, The Barbara Johnston International Prize for Composers, for Five Meditations
1993
Special Recognition, Barlow International Competition for Choral Works, Evensong
1989
New England Biolabs Foundation Grant, for music composition
1982
Recording Artist, A&M Records (violinist, "Private Lightning")